Those who follow us on Facebook have already been able to look at some pictures anticipating this post, because, as you already know, we love to arouse your curiosity and keep you in suspense!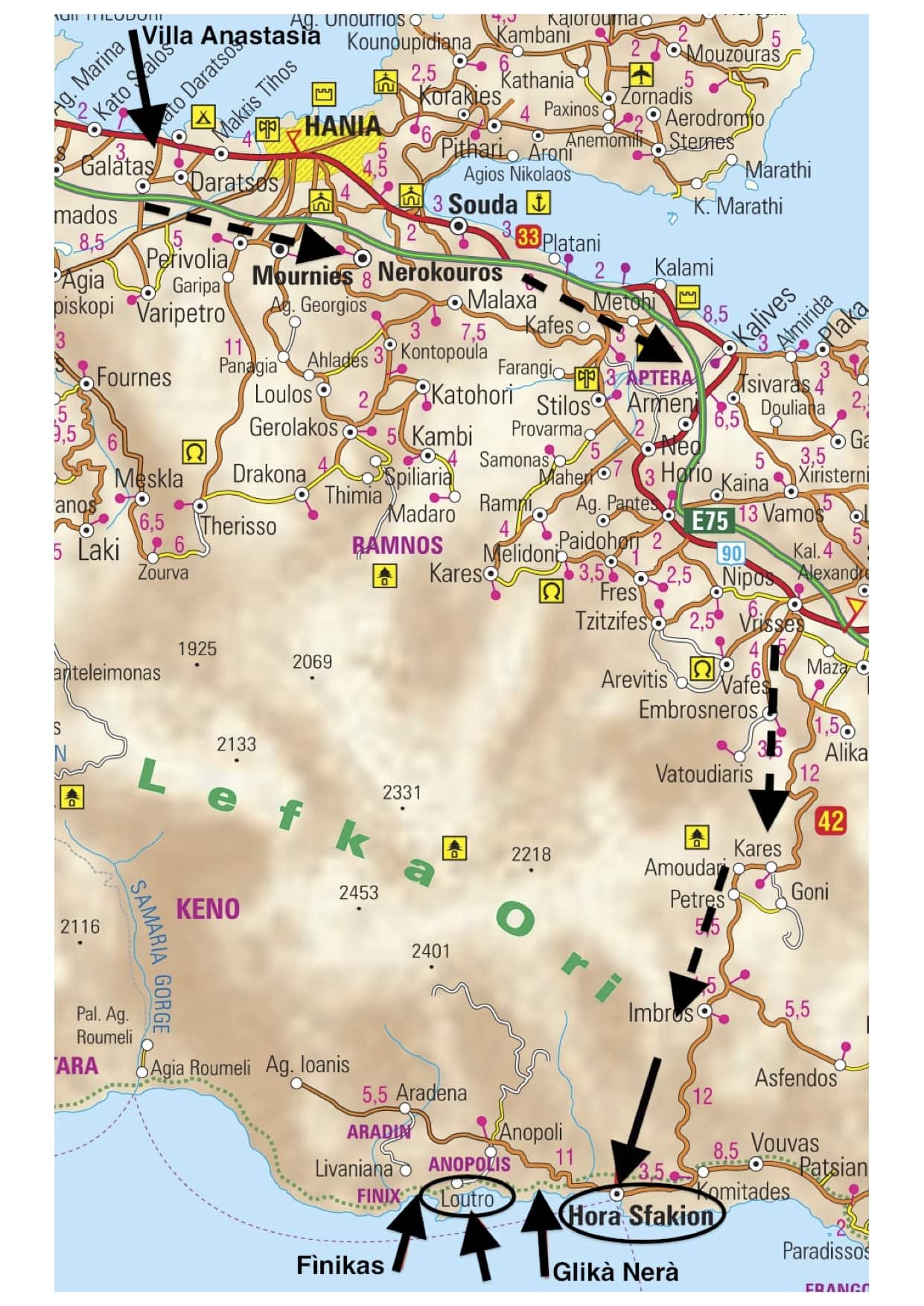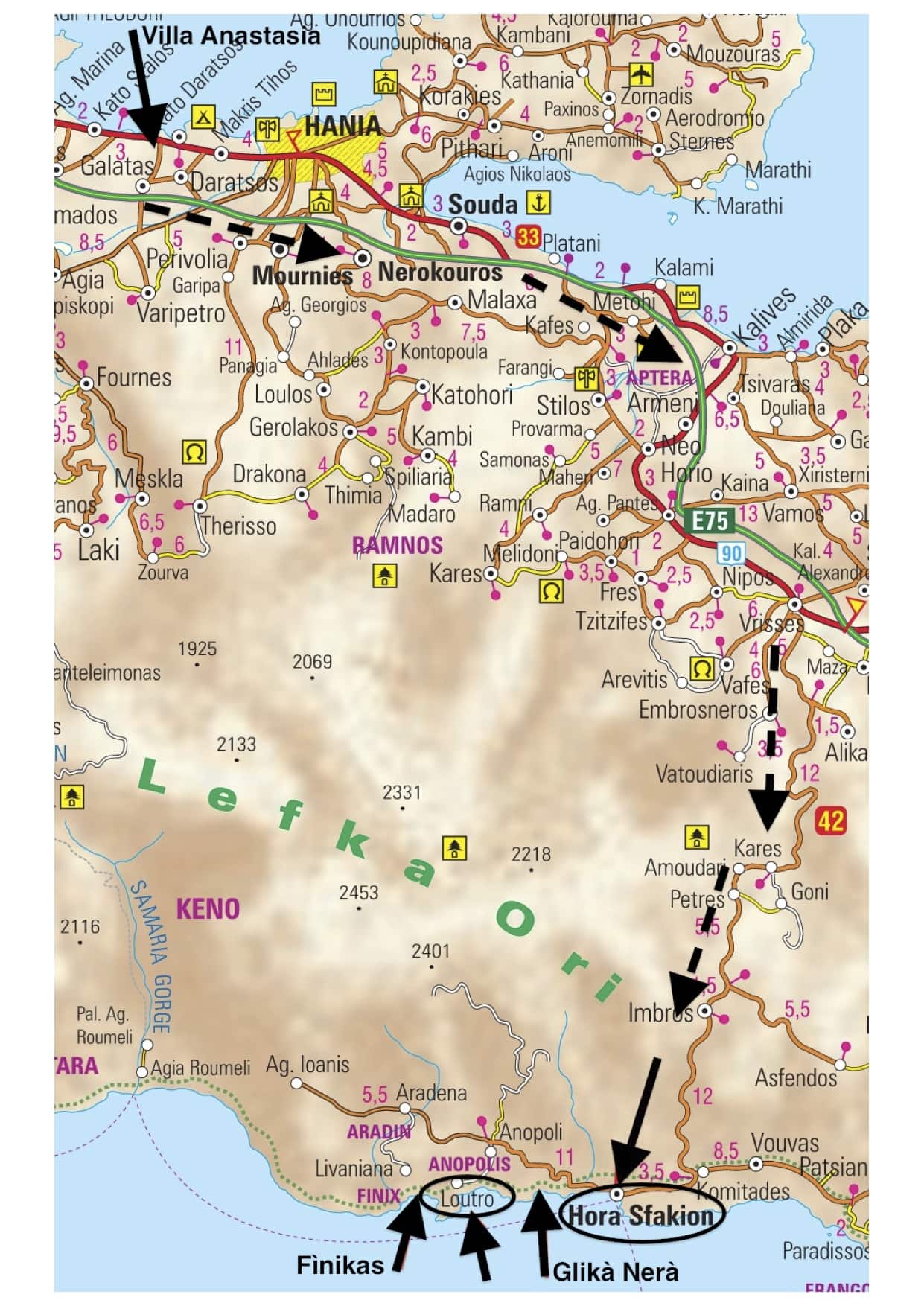 We had thought long and hard about this trip and we finally decided to take it! Starting from the north-west where we live, we embarked on a trip to the opposite coast, the south-west, after travelling for about an hour and a half in the rough and charming mountainous hinterland that opens up under Chania.
The first village we reached was Hòra Sfakìon (or Sfakià), where we parked the car for the whole day, since it wasn't needed any longer…
Sure enough, this coastal area of Crete boasts some of the wildest, most secluded and difficult to access beaches in the island, featured by an unquestioned and unspoilt beauty!
The first one we arrived to was Glykà Nerà, beautiful and much praised bay, accessible only by sea or by foot. From Sfakia, we took the 10.15am boat to Loutro, following the directions of the boatman himself, an attractive and authentic Greek man, with a ponytail, pitch black beard and a vest too tight to be able to contain the culinary habits of an obvious good eater!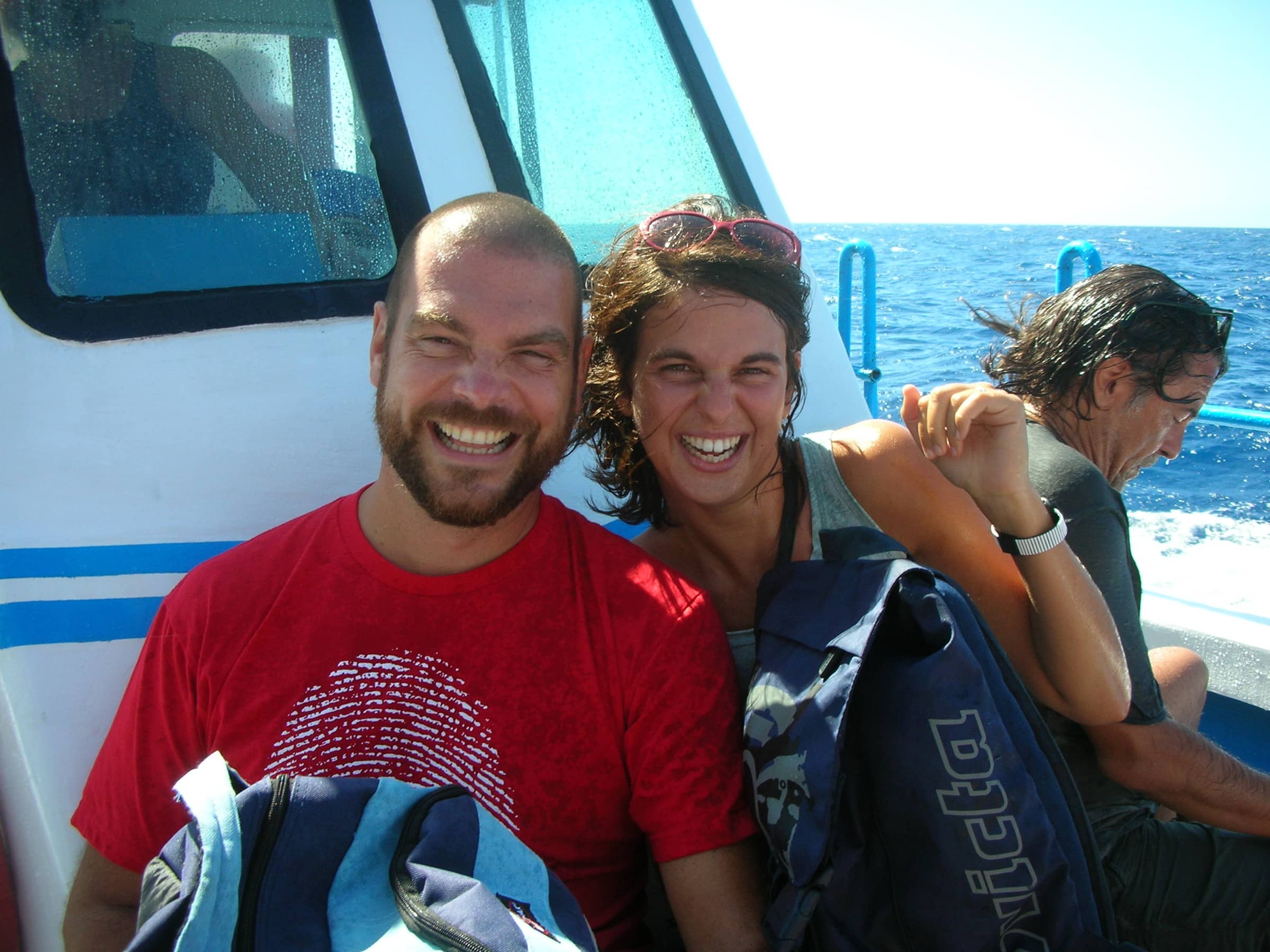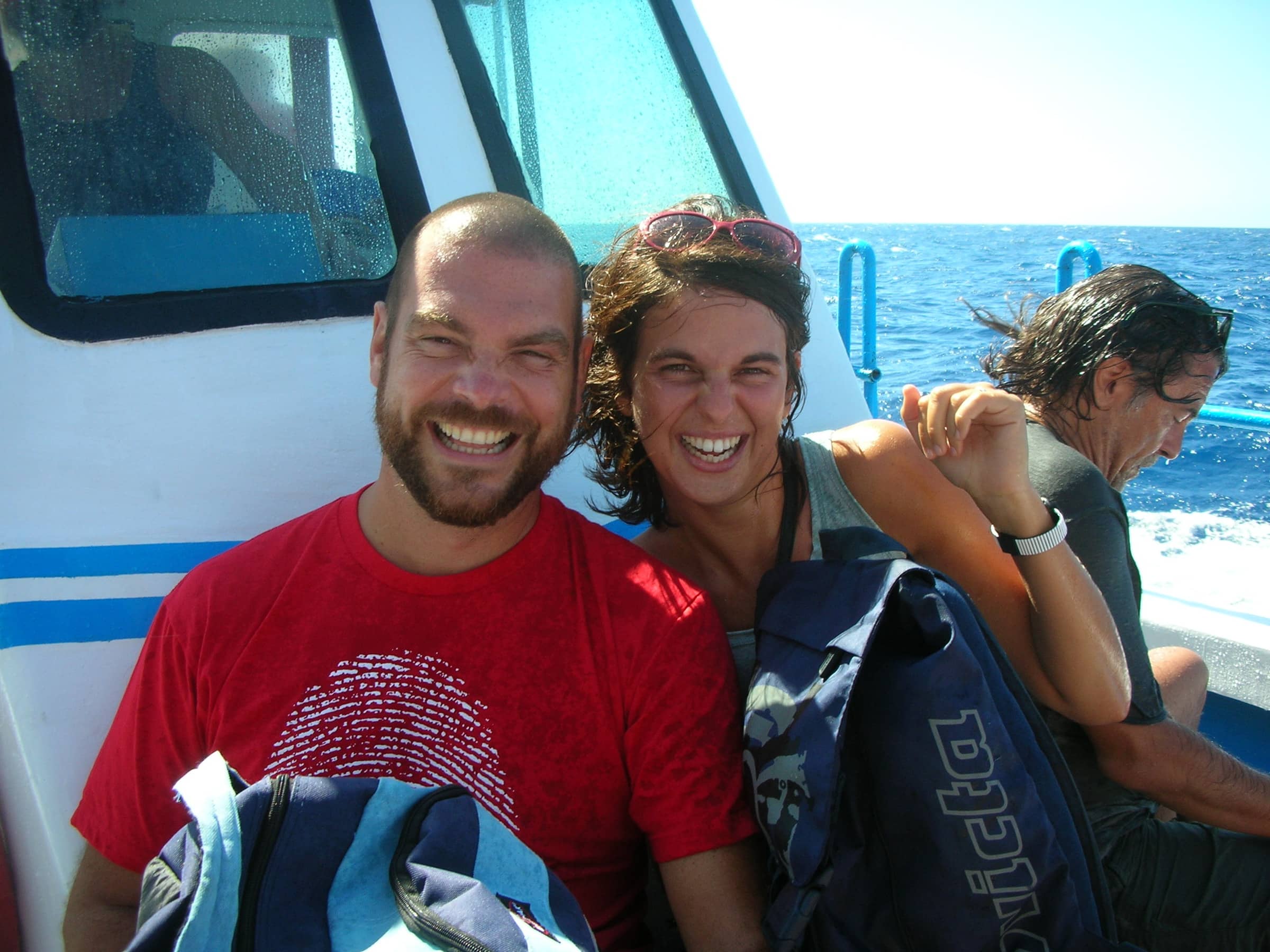 Unfortunately, the sea was quite rough that morning, so much that it made those 10 minutes crossing to get to Glyka Nera quite wet… well, it didn't really matter since we would have soon gone swimming anyway!
In any case, getting close to that wonder and enjoying the spectacle of the nature helped us forgot the salt shower of a minute before. A high and impressive rocky side of Lefka Ori (White Mountains) is the background to a narrow strip of pebbles that ends in blue and emerald and unbelievably clear waters!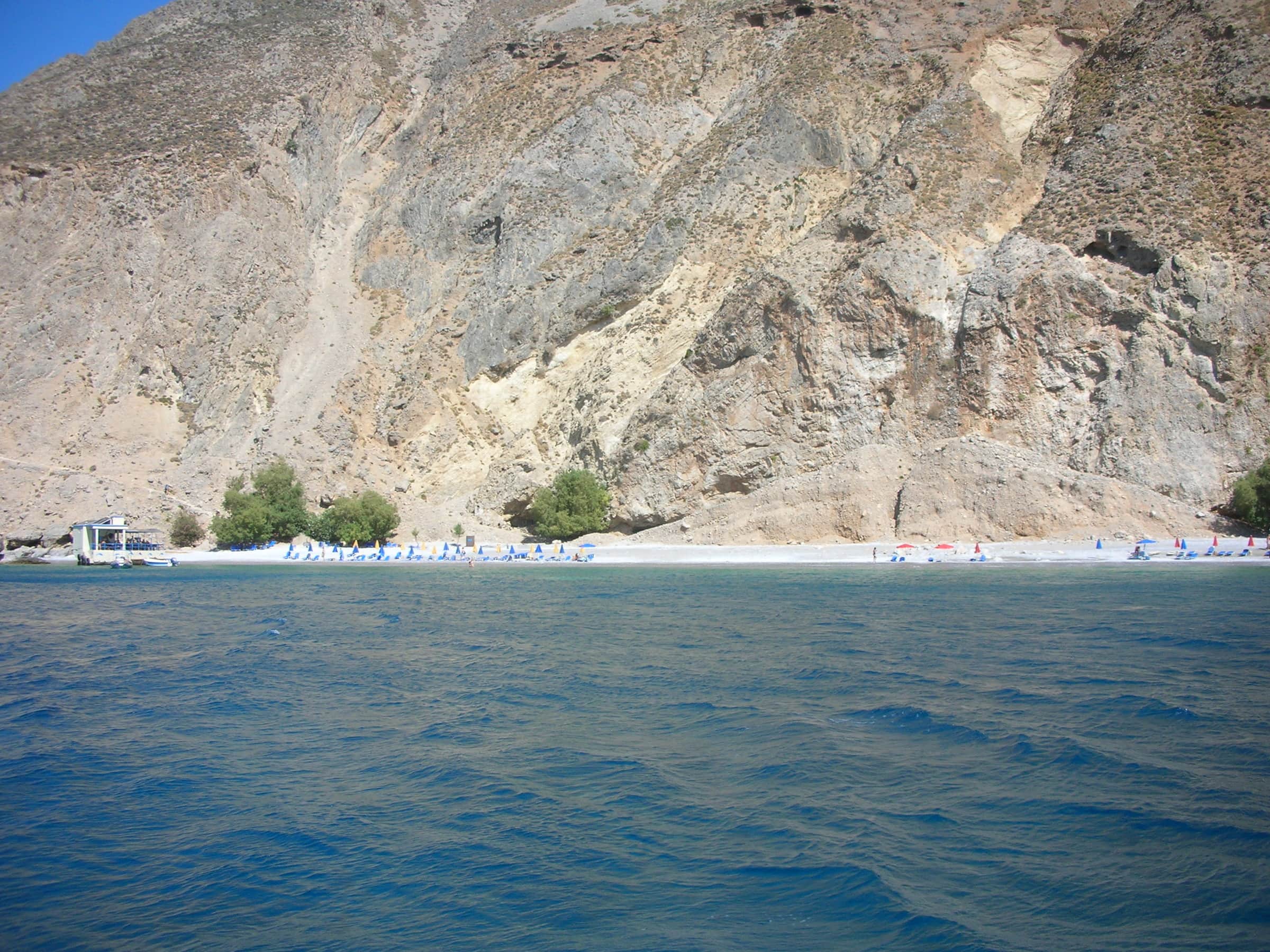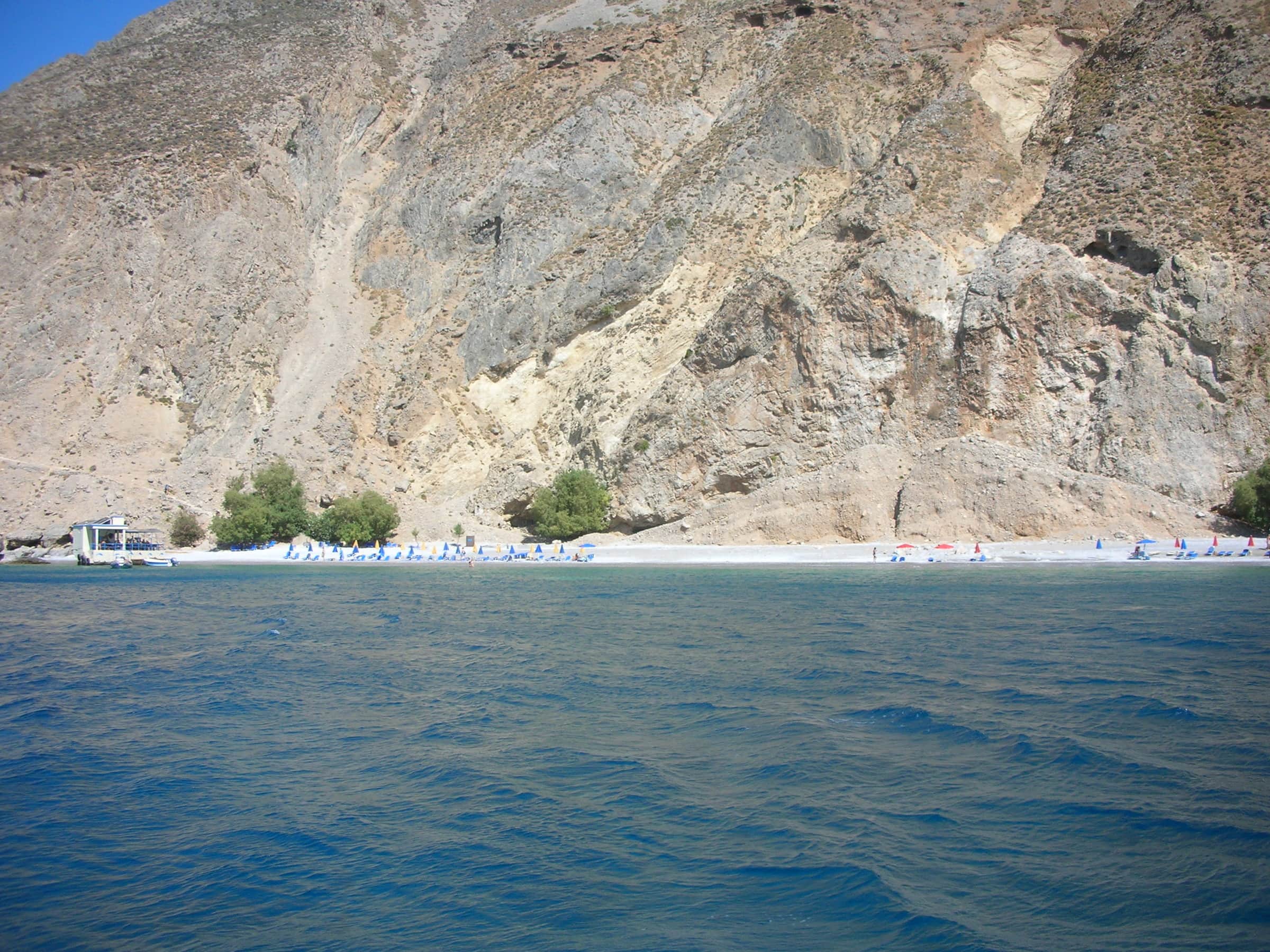 We didn't think it twice and, after descending to the tiny pier/floating boat, we laid down our towels and enjoyed an amazing swim! The environment was very relaxing and the people hanging out there were certainly eccentric and colourful. We saw youngsters with tents pitched on the sand and laundry hanging out under the sun, hikers in their bathing suits coming down from the mountain wearing their trekking shoes and huge backpacks, and, of course, there were naturists! Everything was very exciting! We would have stayed there all day people-watching!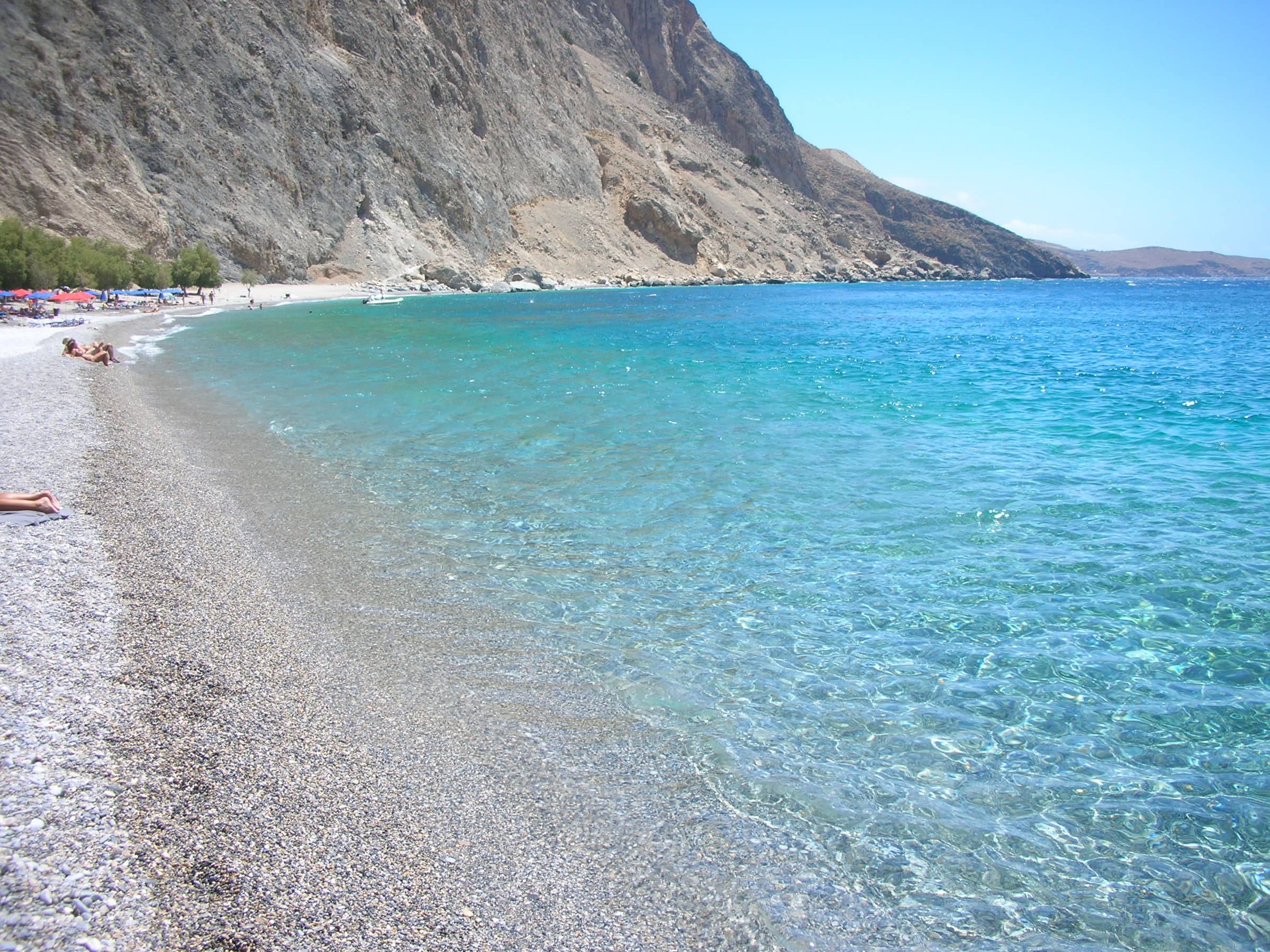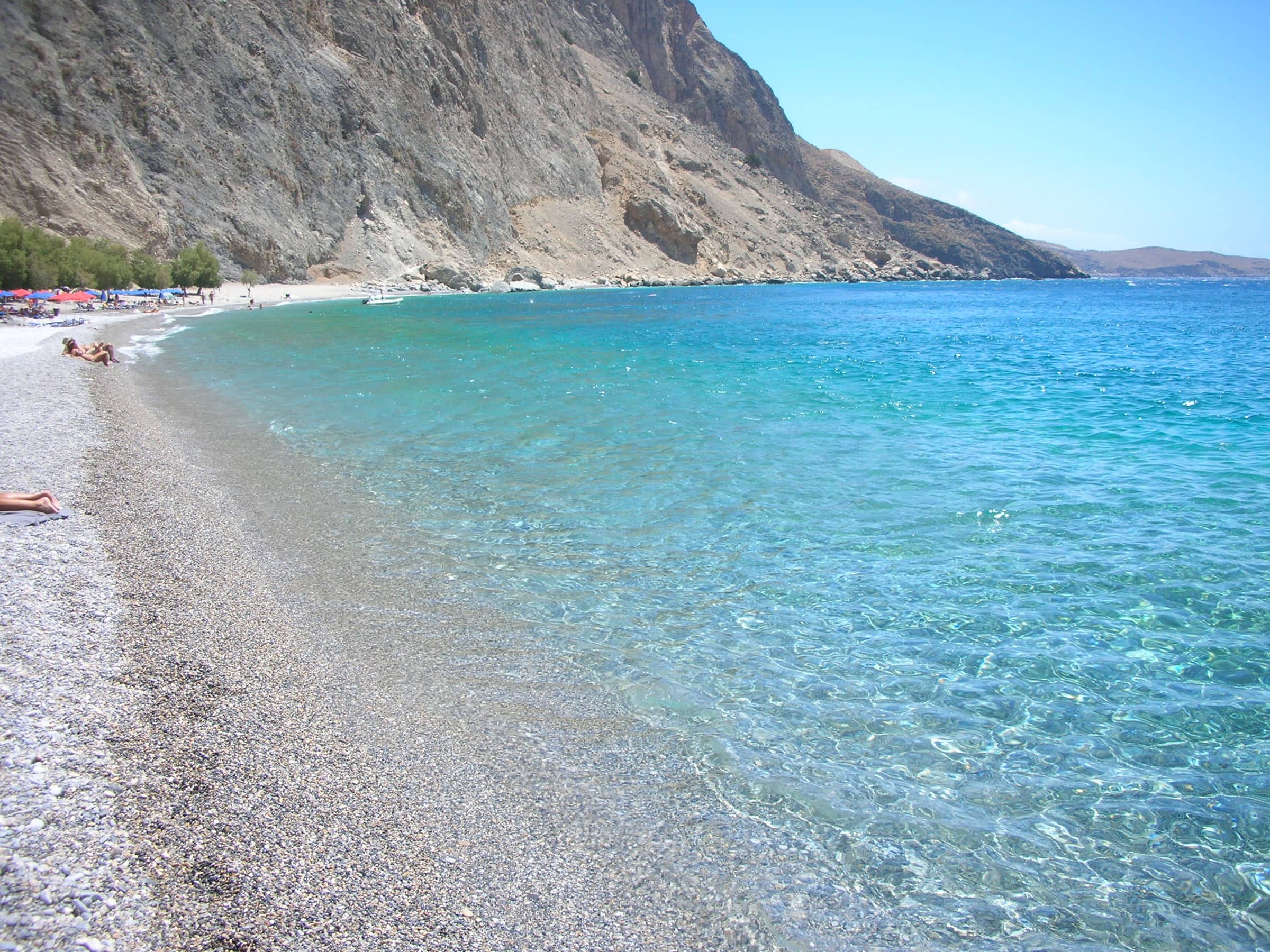 But back to us, as we haven't told you a very important thing, that is why this place is called Glyka Nera, which means "sweet waters". Well, the name comes from the fresh sweet waters that, straight from an underground spring, flow among the pebbles of the beach and end into the sea! Strolling around, you can actually notice these puddles among the stones, and in the middle you can see the gush of totally drinkable water spurting out from the ground. It is for this reason that it's been installed a shower, working thanks to a solar panel, which gives to the bathers the precious liquid for drinking or simply rinsing the sea salt away.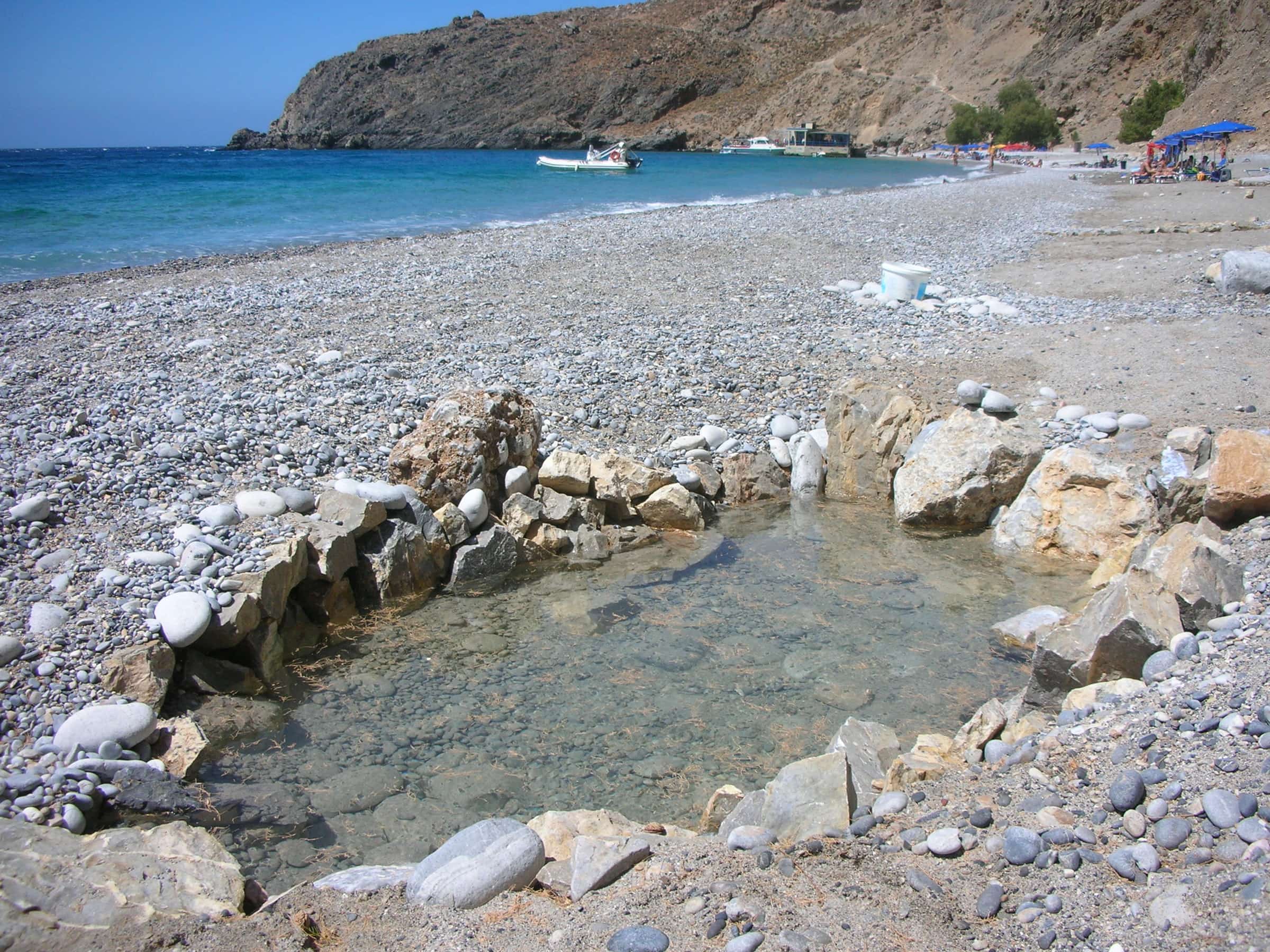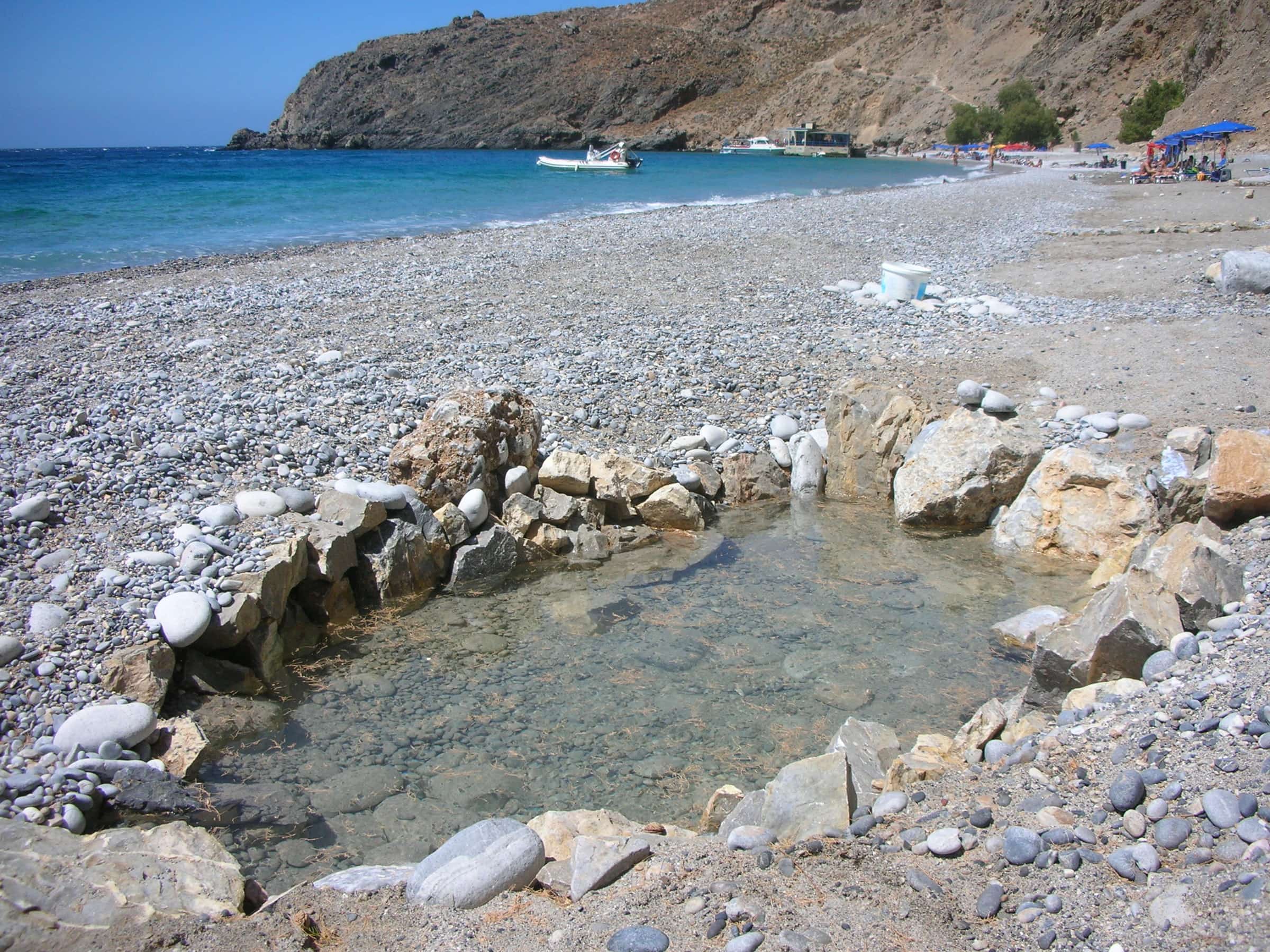 After a relaxing couple of hours and a last gaze to this little heaven, we left Glyka Nera. Jumping on the famous Delfini boat, we reached the village of Loutro in about 10 minutes.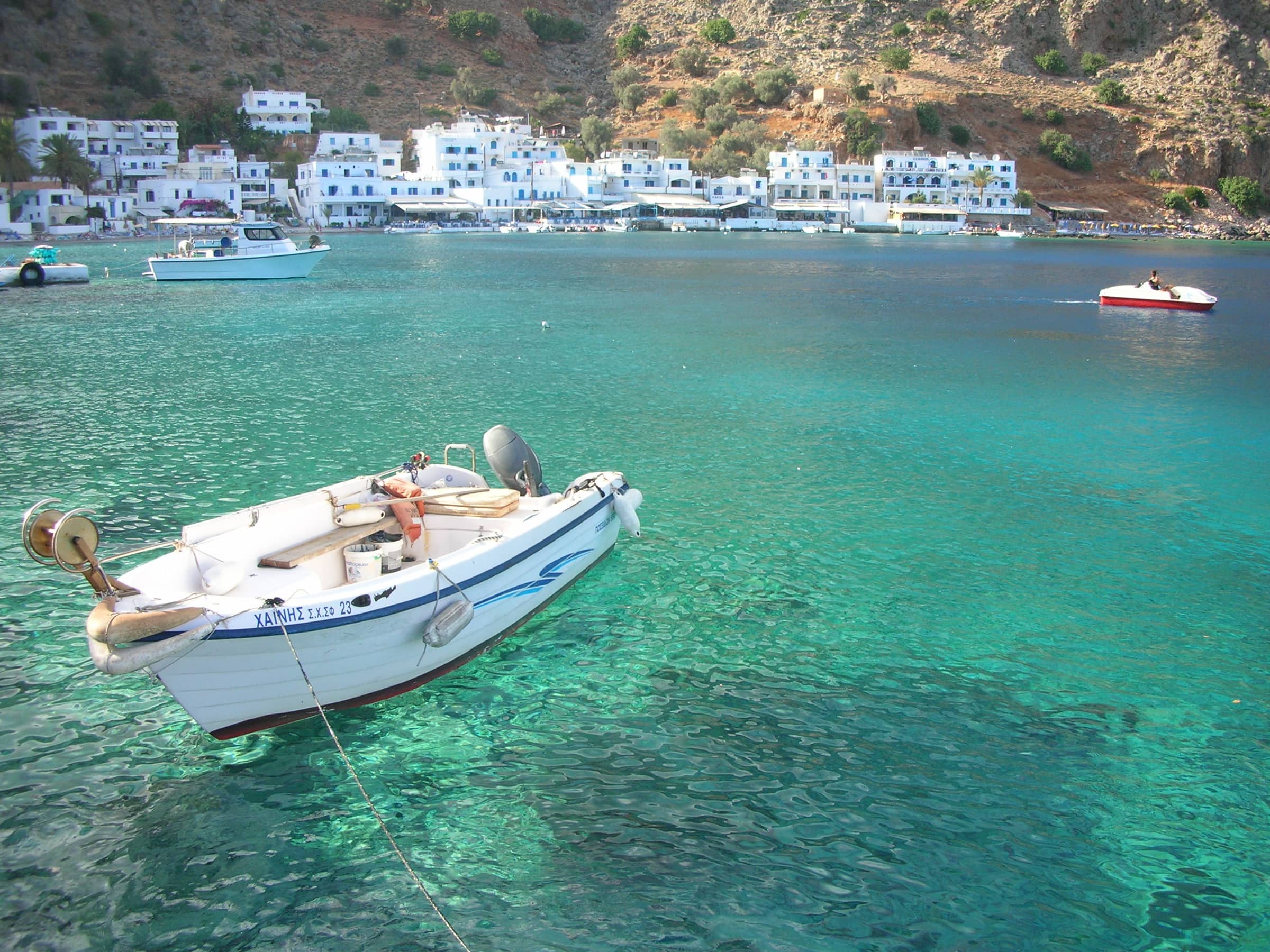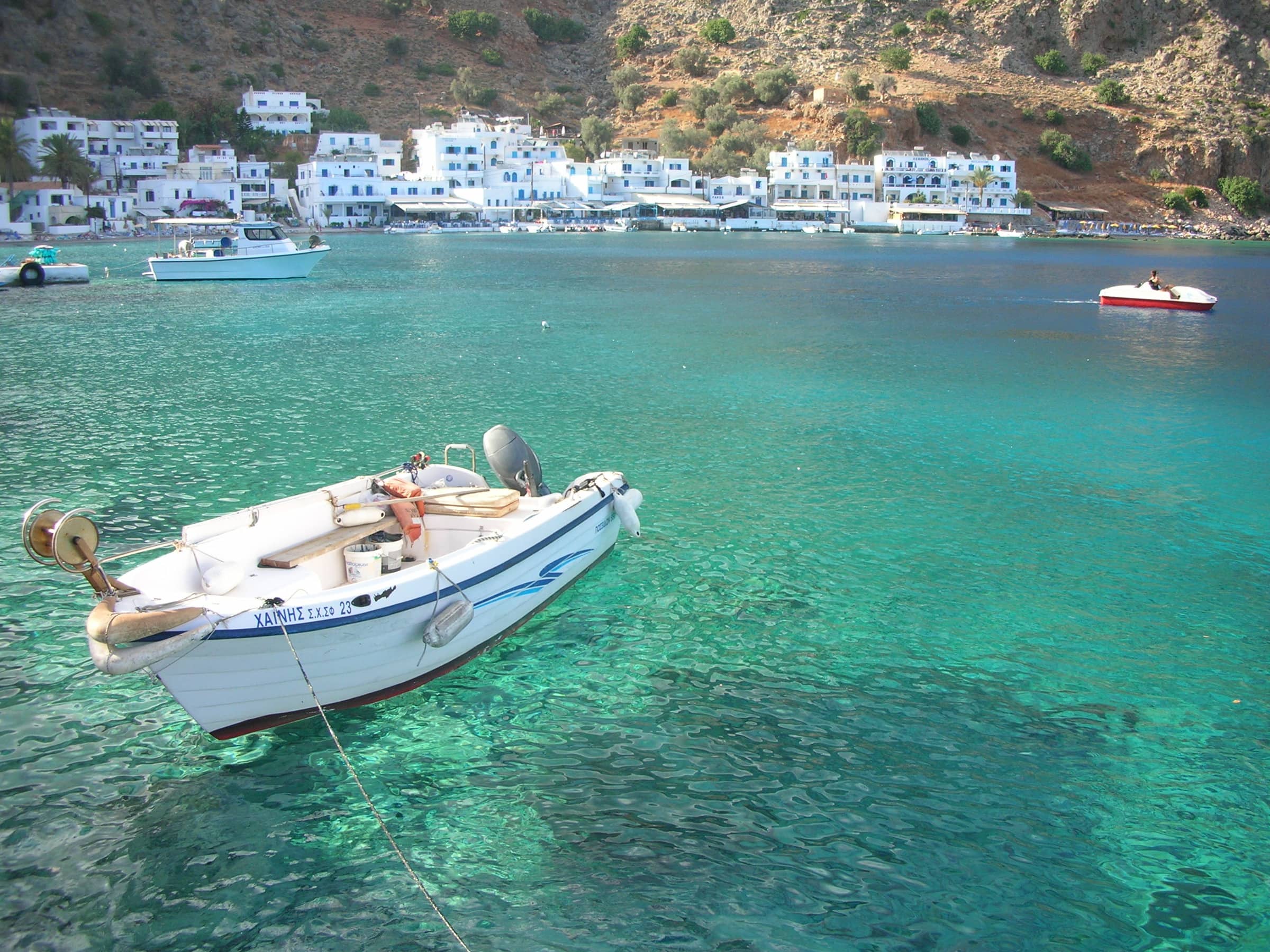 What's the best way to describe the poetry and the magic surrounding this marina isolated from the rest of the world? It's not easy, as it needs to be seen in order to be understood. Located on a half-moon shaped bay, the village consists of no more than 20 or 30 buildings, including houses, old community centres and small hotels. The view is amazing, as you can see all these small houses, identical to each other, all white, with the flat roof and the sea-coloured balconies! Do you want to know what Loutro reminds us of? A nativity scene!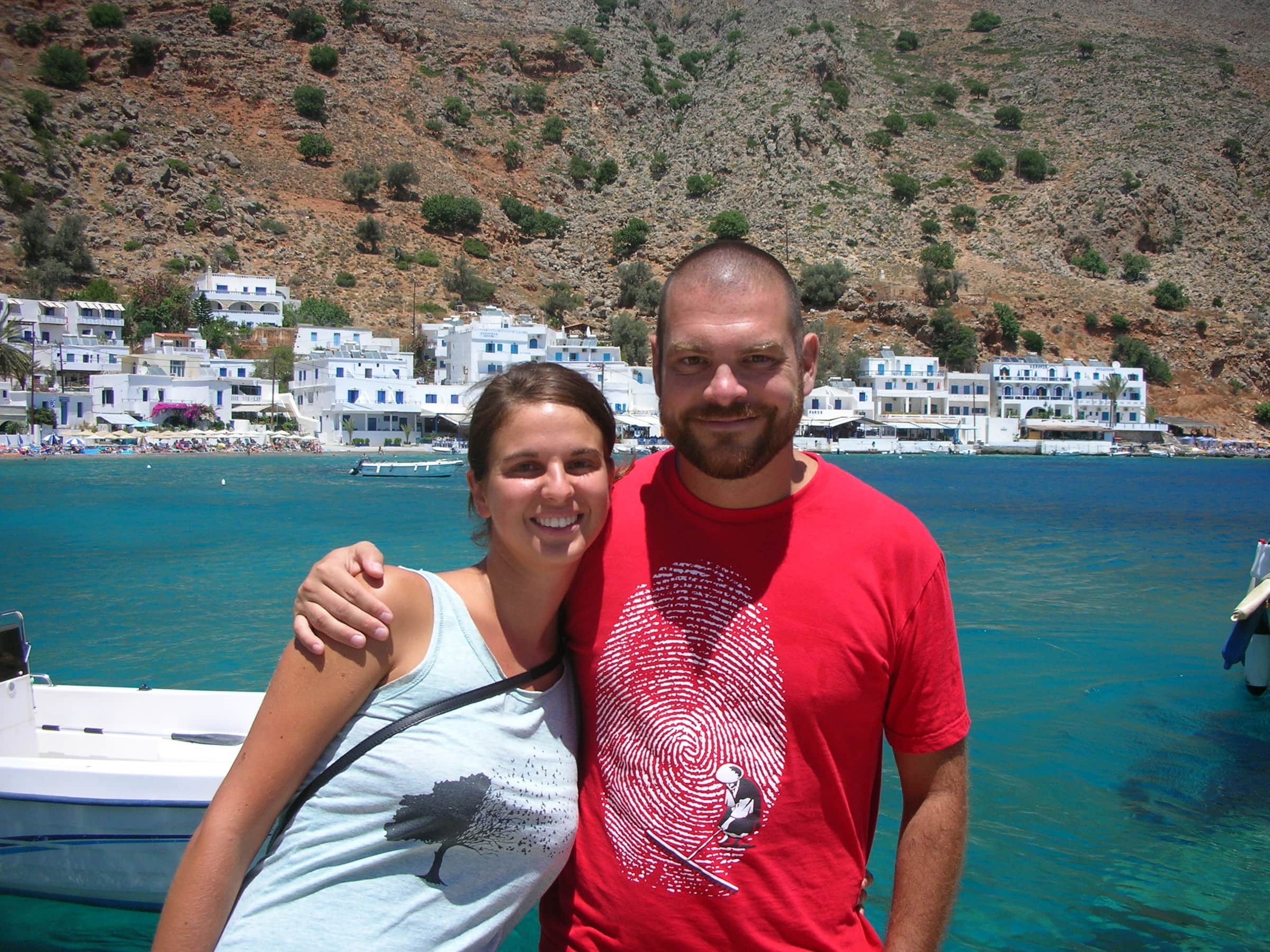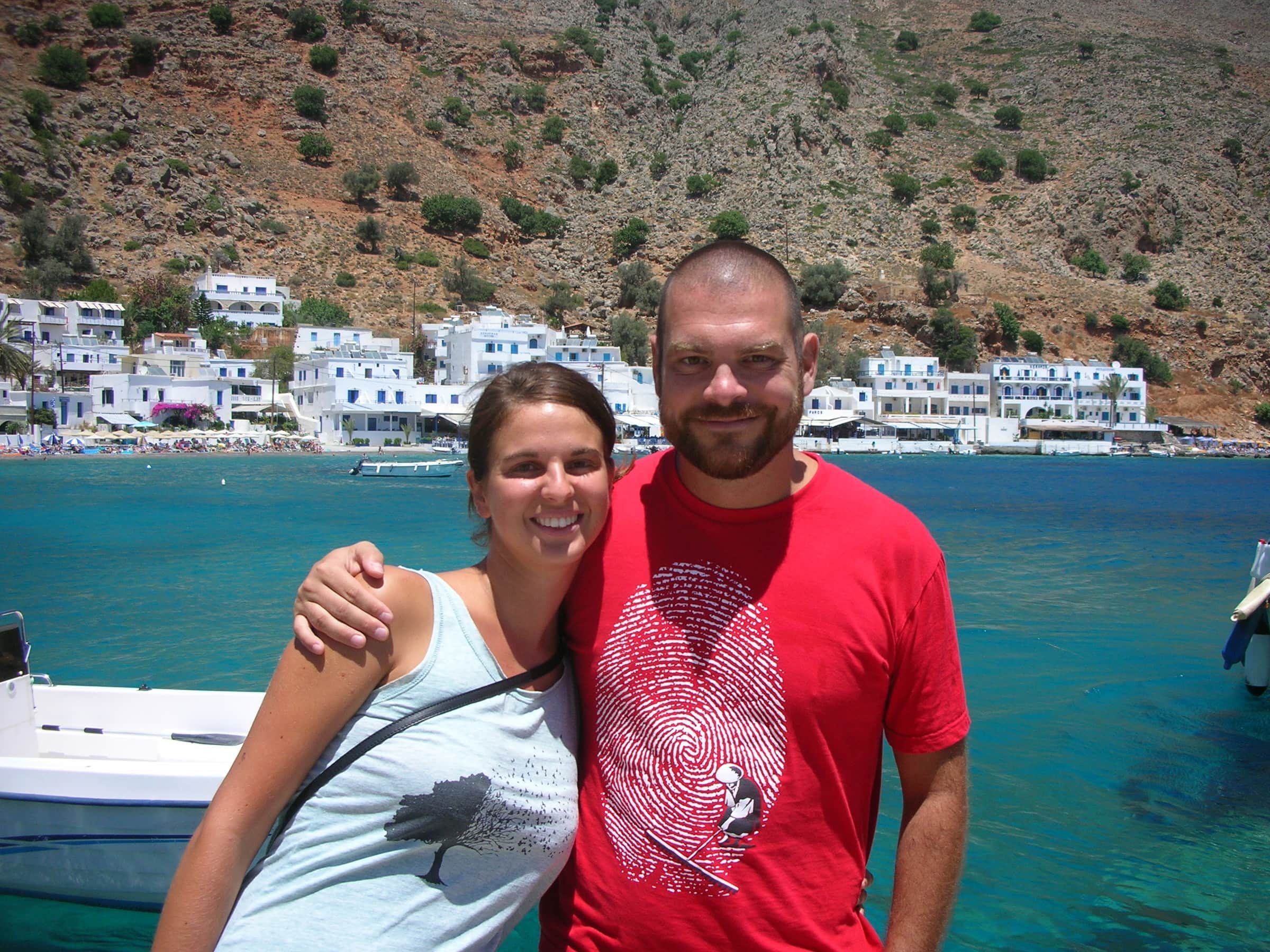 You know at Christmas, when you set up the village behind the grotto? It's exactly the same! And in this case as well, there is a reason behind the name Loutro, which means "bath", and the key role is played by the many springs found in this area, whose water was able to reach as far as the nearby village of Anopolis.
After a delicious lunch in one of the many seafront taverns (13 € for 2 people…itnever ceases to amaze us!), we decided to get to a last destination: Fìnikas (or Finix, or Phoenix).
This time, however, we told ourselves: "Saddle up and go! We walk!".Clearly a bit nervous and proud, we then took the E4, one of the 11 European long-distancepaths. We had heard about it many times and read many stories, and even today we dream of covering the Cretan route, 500 km from east to west (and sooner or later, we will do it!). For now, we can proudly say to have stepped on it for few kilometres! From Loutro, we passed by the first beach of Finikas (reached in about half an hour) and we arrived at the second one, in another 15 minutes: very rough beach, with rocks and pebbles, a small hotel and a couple of taverns, perfect setting for those who love a wild environment and total isolation (if you don't mind the goats to keep you company!).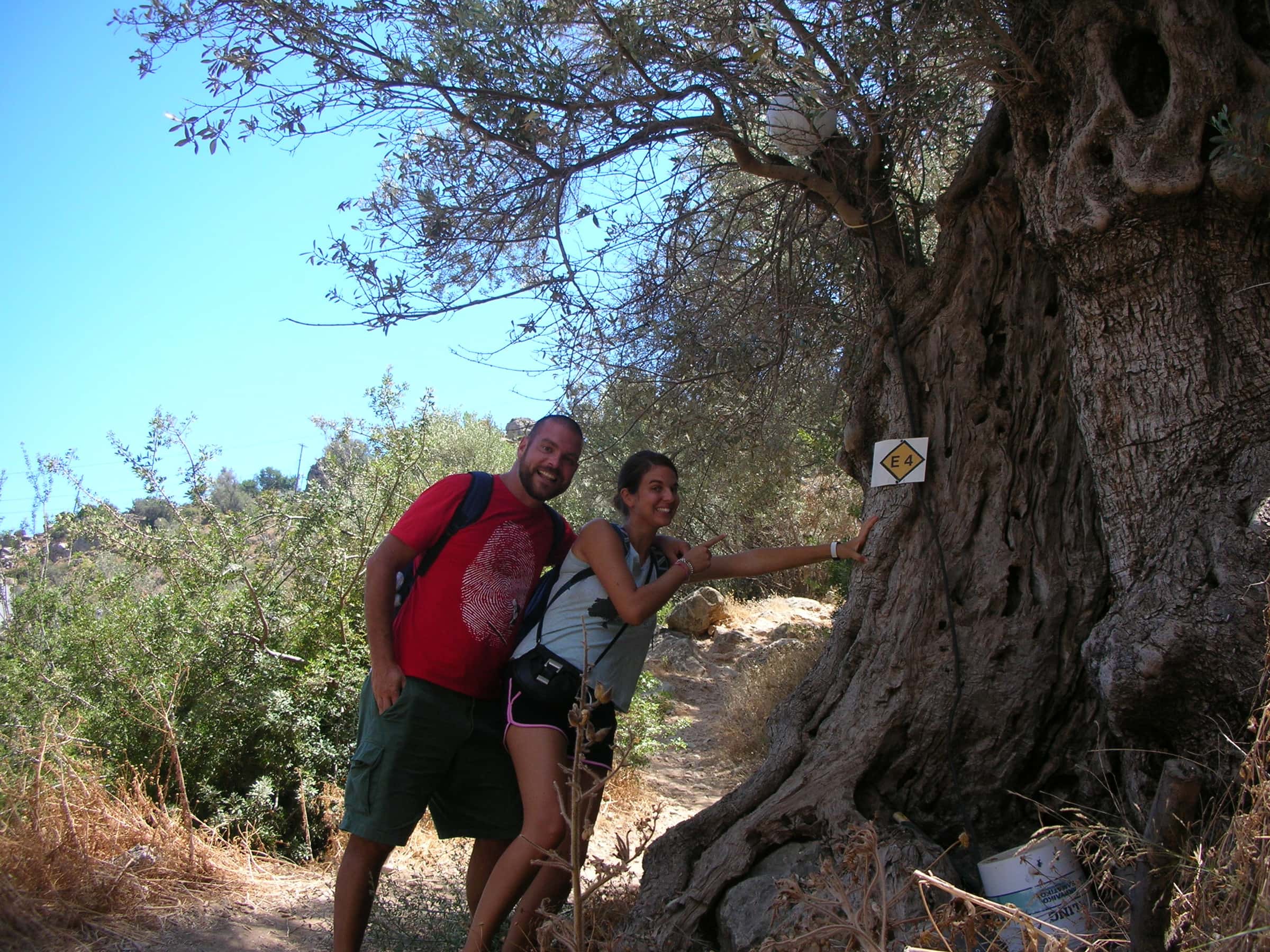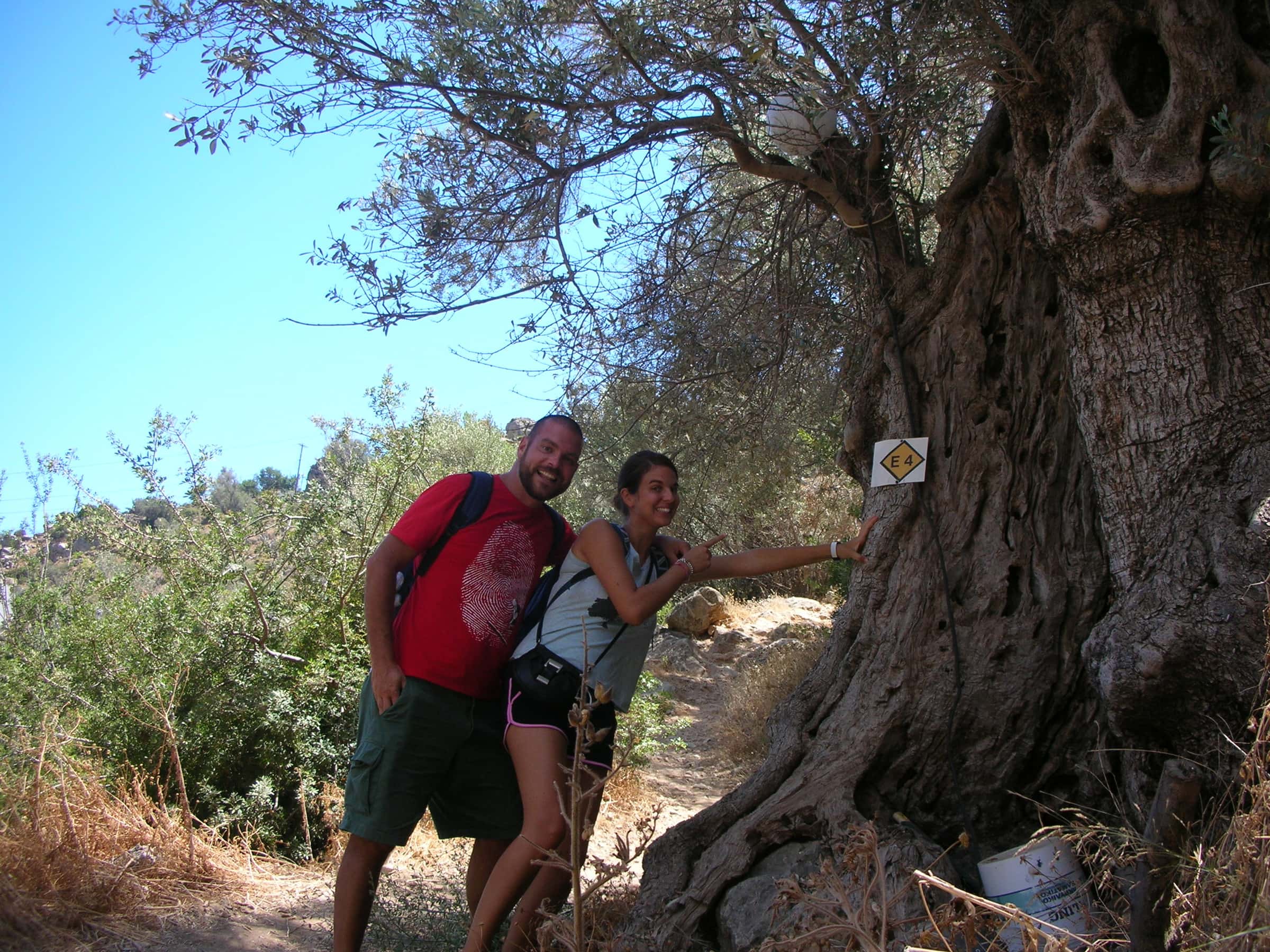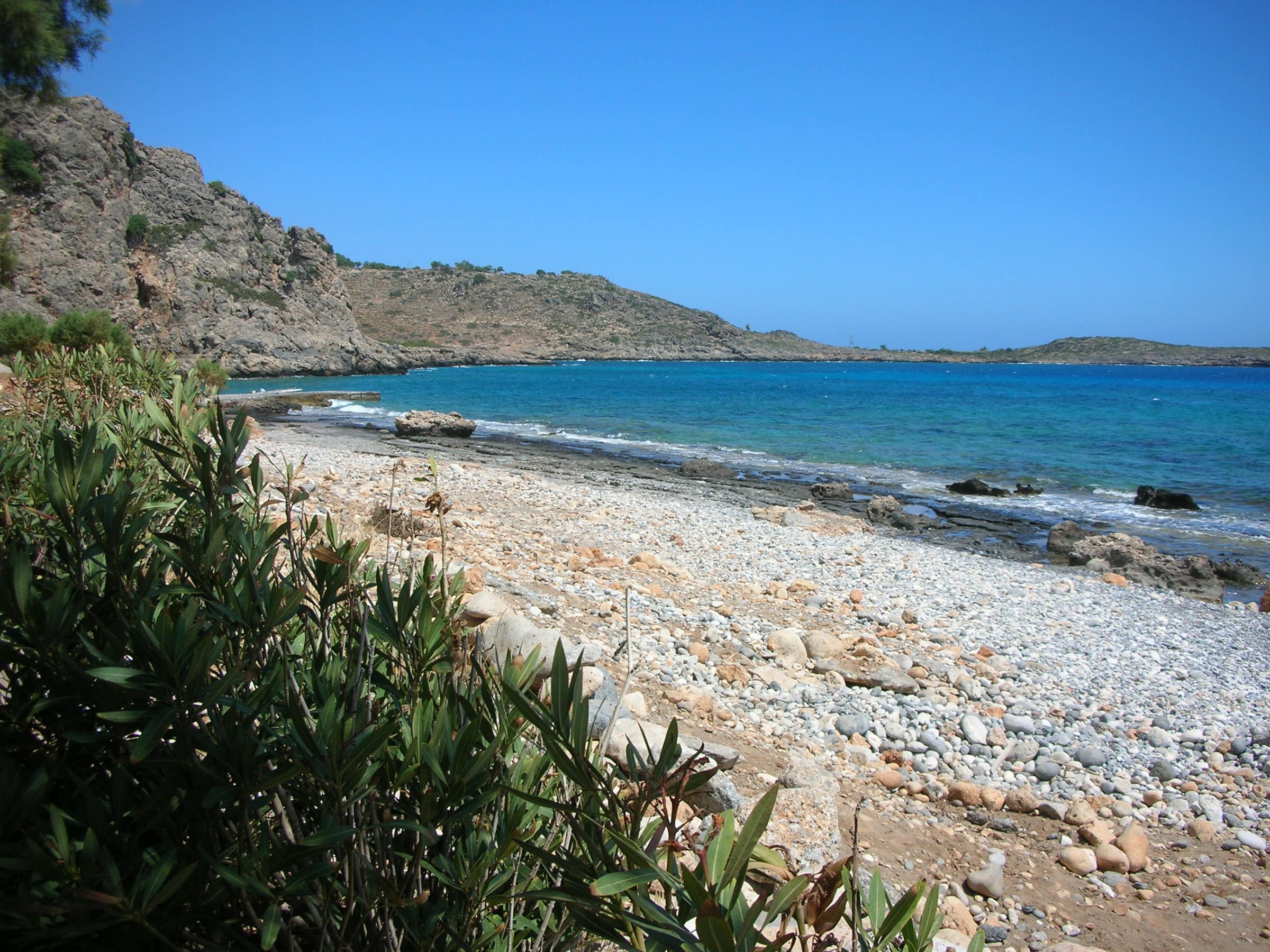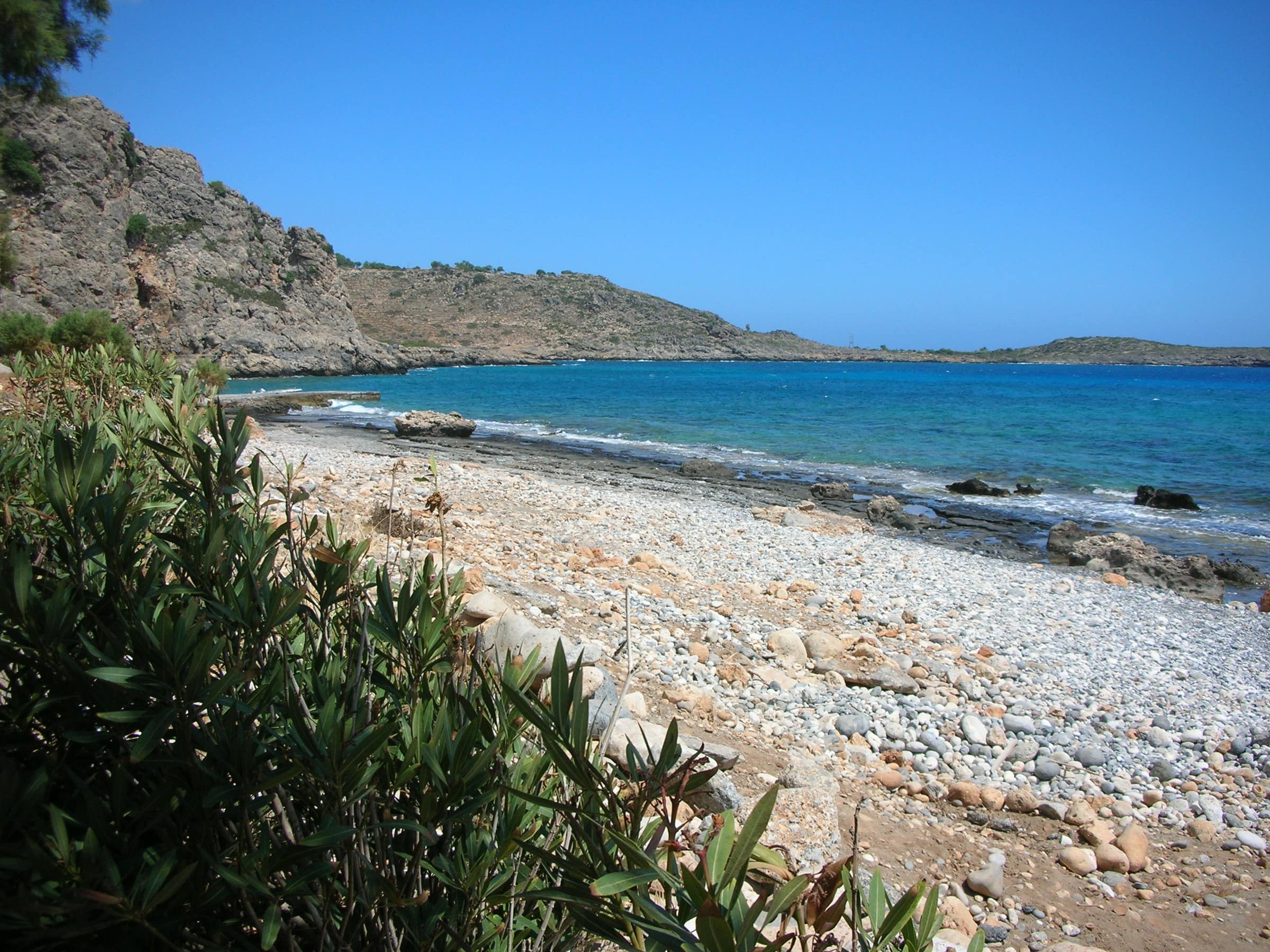 On our way back, definitely in need of a restoring swim, we stopped at the first bay: small, stony, very pretty, with a few white and blue hotels as a backdrop. Despite the freezing water, we swam for few minutes, and then packed our stuff and climbed up the mountain again. Passing once again by the scant but suggestive ruins of the ancient town of Finikas, we slowly headed towards Loutro. Close to the town, we enjoyed for the last time the view from the top and filled ourselves with beauty, before taking the boat to Hora Sfakion and to our car.
How amazing is the south, guys!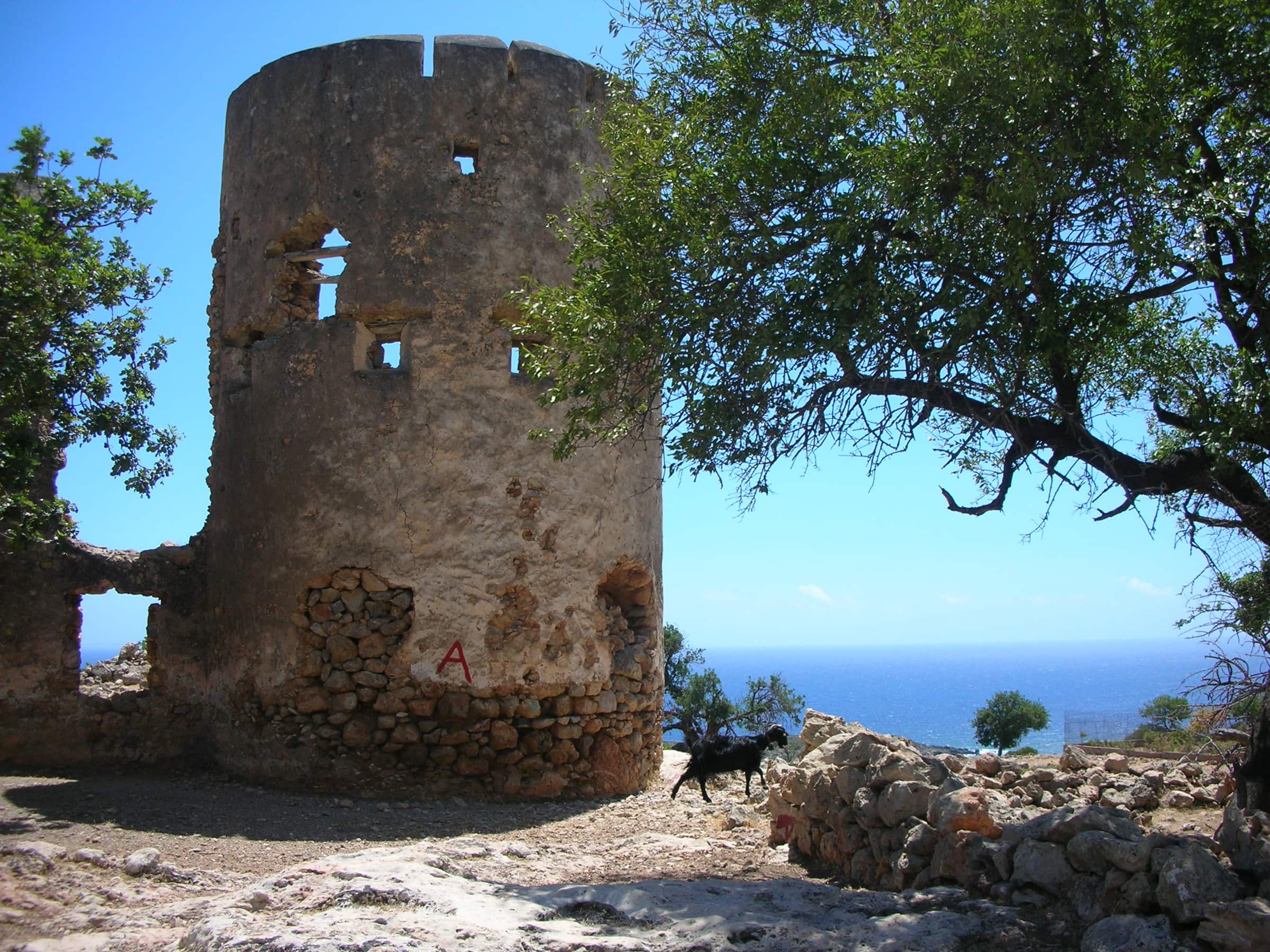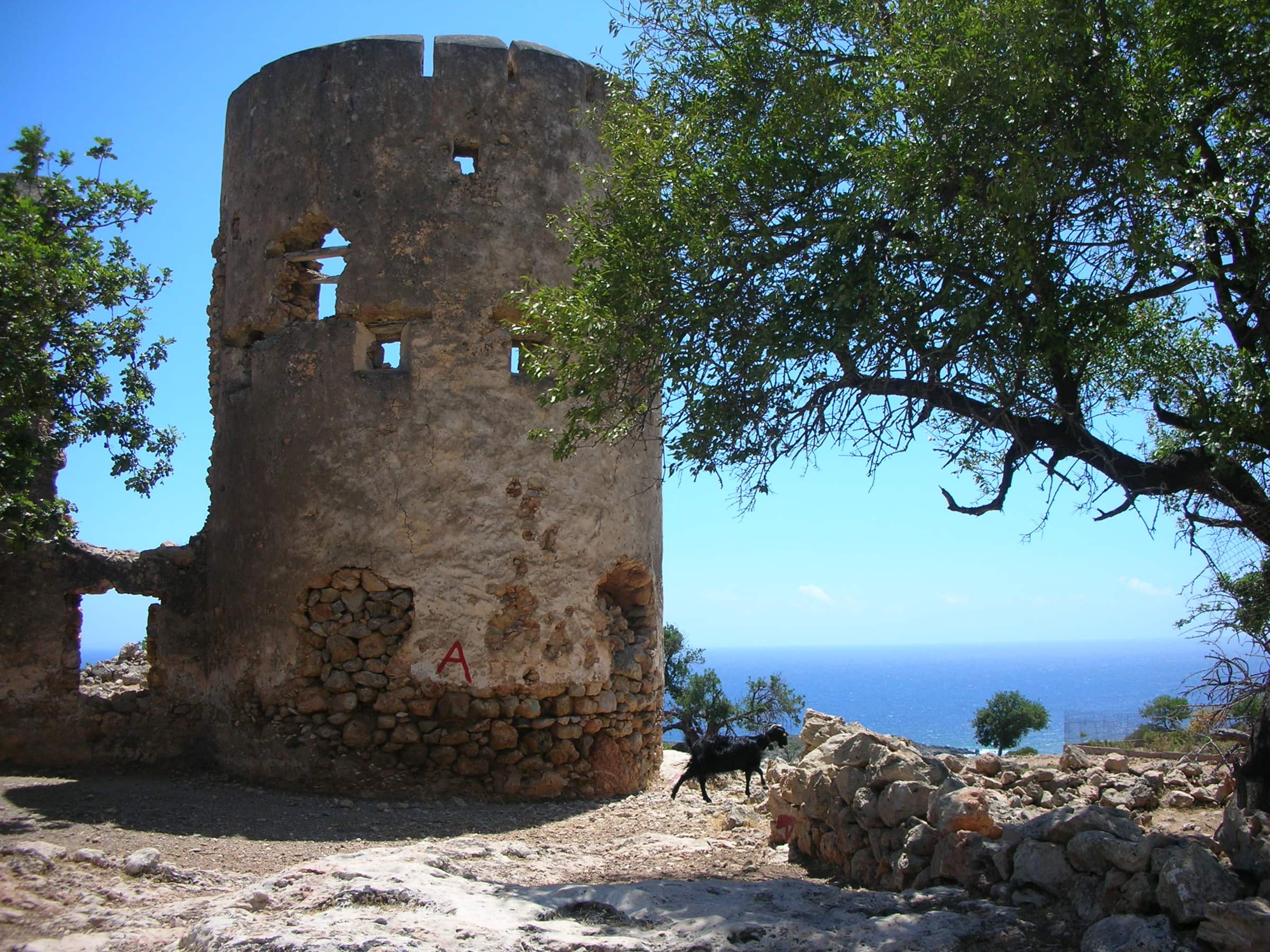 Hopefully, we didn't bore you to death with this long story… but also we hope we have managed to deliver a taste of this charm and a bit of Cretan sun to your houses and offices!
See you soon!